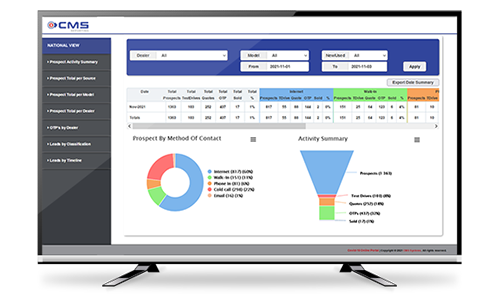 All activity on the CMS System's products is automatically tracked.

You can track leads, measure conversion ratios, convert leads into active prospects and review progress through the sales funnel in the tracked records.

The sales manager can see what is happening in the dealership, the dealer principal sees even more. At head office level all dealer activity can be viewed per region or drilled down to an individual salesperson.

Dealership Dashboard makes it easy to keep the team focused on high value activities, building, and managing your sales pipeline.

Single login access, real-time secure centralised data is stored in one common location, accessible from anywhere.

All the prospect contact history is stored in Dealer Dashboard Reporting System.


CONTACT US
If you have any questions about this product, you can contact us:

• By email: sales@cmssystems.co.za
• By phone number: 087 051 0000