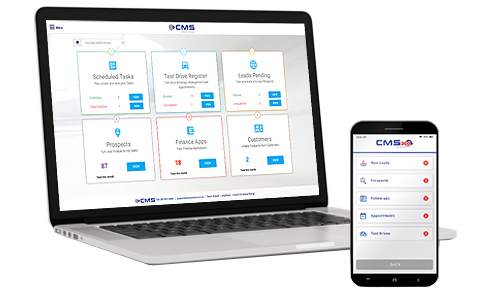 CMS Sales Cloud is simple and designed to keep salespeople selling. Giving salespeople access to integrated tools and functions that provide the full context of a prospect's profile.

The system keeps them in the loop and allows them to capitalize on opportunities that generate sales while providing useful tools for each step of the process. Keeping track is easy because data capture is automated.

CMS Sales Cloud generates all documentation such as Sales Quotes, Offer to Purchases, Trade in Valuations (powered by Bid4Cars), seamlessly updating the prospect record without recapturing. CMS Sales Cloud module generates quotes and OTP's from actual OEM or dealership stock lists, with pre-populated OTP document packs.

CMS Sales Cloud provides interfaces to most supporting systems (F&I and most DMS) including deal submission for invoicing and finance applications, updated statuses and overall deal closing.

Data is kept in one cloud, with full compliance with the POPI Act. The solution offers customer facing Opt-Out functions and total adherence to the privacy of customer information.

CMS Mobile PWA modules enables access from any mobile device and manages activities of various modules.

The CMS Mobile PWA modules is easy to use and make the management of all modules across the range simple.

With the CMS Mobile Sales Management PWA, simply manage appointments, test drive log and register with driver's license scanning to confirm test drive, mitigate risk, ensuring the most completed information updates on the prospective customer's profile in the Sales Cloud.

Easy actioned Follow-up logging integrated with Logimeter CallConnect.

CMS Mobile Stock Management and Stock view across groups for Sales Executives, with view and information on any mobile device.


CONTACT US
If you have any questions about this product, you can contact us:

• By email: sales@cmssystems.co.za
• By phone number: 087 051 0000