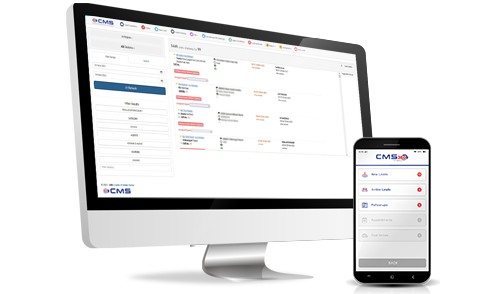 CMS Lead Management Solution (LMS) is an integrated application for call center, dealer sales floor and dealer sales management.

CMS Lead Management Solution (LMS) has the capability to integrate with any web service to fetch and push electronically generated leads, with integrations to most website aggregators and OEM generated enquiries, to seamlessly allocate and create the prospect automatically in the CMS Sales Cloud module ensuring realtime visibility. Electronic dealer notifications ensure prompt action.

CMS Lead Management Solution (LMS) is fully integrated with Logimeter CallConnect to ensure instant connection to the enquiry, voice recording of first contact, all available in the prospect record, in one solution.

All lead activities feeds into detailed reporting on every action and outcome. Mobile application available for on the move lead management.

The CMS Lead Management module (LMS) is scalable to suite different ways to get your leads qualified and contacted in the shortest amount of time without a comprehensive CRM system in place.


CONTACT US
If you have any questions about this product, you can contact us:

• By email: sales@cmssystems.co.za
• By phone number: 087 051 0000